Supreme Court Chief Justice and U of A alumna Beverley McLachlin gives talk on diversity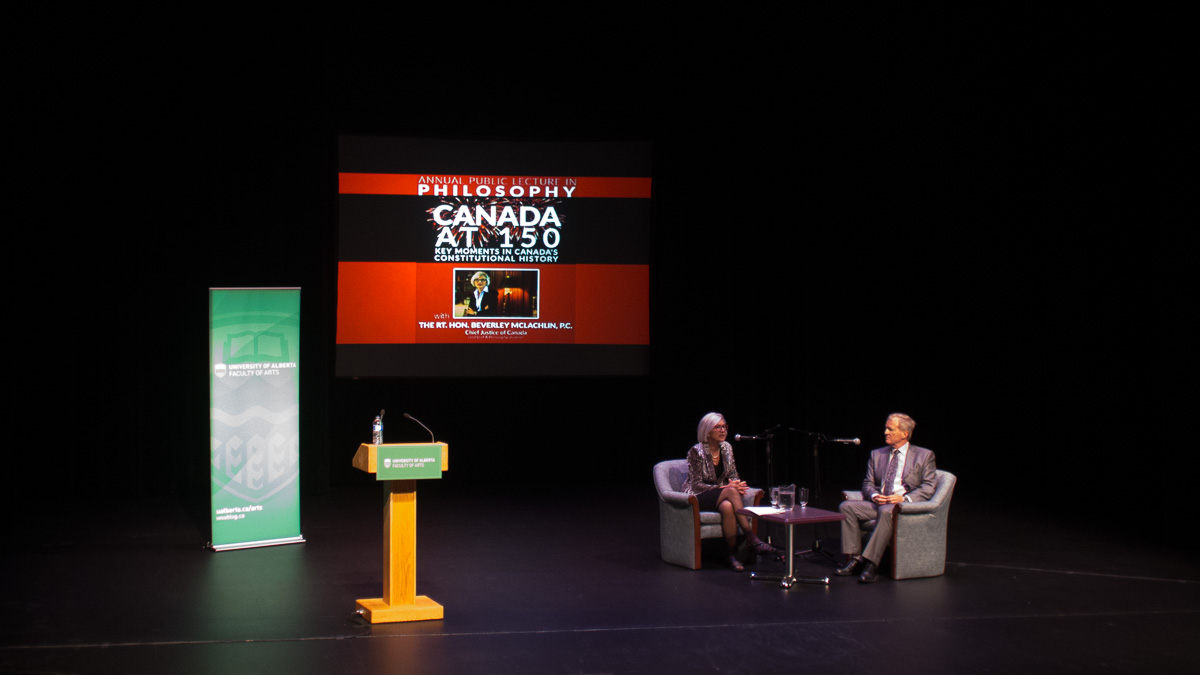 At the Timms Centre of the Arts on Wednesday, September 6, Chief Justice Beverley McLachlin spoke about the importance of diversity and how embracing it is one of Canada's defining features.
As part of the Department of Philosophy's annual public lecture series, McLachlin, who studied philosophy at the U of A in the 1960's, focused her lecture on five key moments in Canada's constitutional history and how these moments demonstrate Canada's commitment to diversity and inclusion.
McLachlin was appointed to the Supreme Court in 1989 by Prime Minister Brian Mulroney and was then made Chief Justice of Canada in 2000 by Prime Minister Jean Chretien. She is the first female Chief Justice, and also the longest-serving person in that role. During her time in the Supreme Court, several significant rulings have been made, including striking down anti-prostitution laws and laws against doctor-assisted death. Earlier this year, McLachlin announced that she will be retiring in December 2017.
In her talk at the U of A, McLachlin argued for Canada's inclusive character, however she acknowledged that it has failed that commitment on several occasions in the past, such as during residential school programs and the head tax on Chinese immigrants.
"We are still trying to mend these wounds and are reminded that policies of exclusion are detrimental, have always been detrimental, to the country as a whole," McLachlin said.
Despite these moments, McLachlin argued that Canada's ethic of inclusion has persisted in the 150 years since Confederation.
Following her lecture, the audience asked McLachlin several questions, including how her studies in philosophy at the U of A have helped her work as a judge.
"Before I started studying philosophy, my mind was a bit of a mess," she said. "It was very muddy, and I felt that that discipline and all that constructive criticism that I got from people in the philosophy department really helped me to learn how to better marshal arguments."
McLachlin was also asked if she had any advice for countries in Europe that are closing their borders to immigration. While she said she had no advice to give in public, she elaborated further on how countries can react to diversity.
"Diversity today is inevitable," she said. "Poland, Hungary, all these countries that are perhaps opting to diminish diversity, they have diversity, it's a question of how you react to it. Do you react to it in an inclusionary way that is based on a fundamental belief that all human beings are worthy of dignity and to be treated as such, or do you react to it in some other way?"
Finally, McLachlin was asked if the Supreme Court is open to reconsidering the way it communicates with the public. She replied with a reference to Donald Trump and his tweeting habits.
"The Supreme Court does have a Twitter account, but you won't get any 4:00 a.m. tweets from me," she said.
The post Supreme Court Chief Justice and U of A alumna Beverley McLachlin gives talk on diversity appeared first on The Gateway.